Last updated: April 22, 2022
Best Dehydrators To Make Beef Jerky in Australia
The fastest and easiest way to make the best beef jerky is to use a specially designed jerky dehydrator. You will soon be producing kilos of high-quality jerky in no matter how complicated or confusing it may sound. There are many beef jerky dehydrators available on the market. They vary in price and functionality. Here are some of the most popular.
Types of Beef Jerky Dehydrators
Circle / Round dehydrator with stackable trays with bottom heat fan
Square or rectangle unit with sliding trays and rear heat fan
Rectangle unit with extractor fan on top and side heater elements
Each type of jerky dehydrator has its pros and cons. We will go into detail about each unit below.
5 Best Beef Jerky Dehydrators To Buy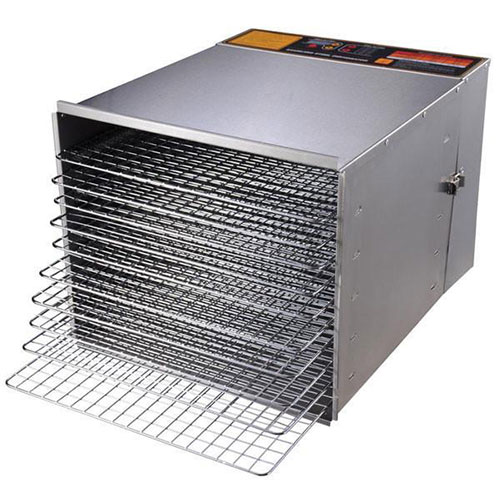 Beef Jerky Dehydrator Comparison Table [2022]
10 Tray Stainless Steel Jerky Dehydrator with Stainless Steel Trays
Number of trays: 10
Material: Stainless Steel
Shape: Rectangle
This stainless steel 10 tray jerky dehydrator is another great rectangular unit. This unit has a digital temperature and timer, as well as a stainless steel construction. These are all great features to consider when selecting a dehydrator. It is very easy to use the digital control panel. You can monitor the temperature and set a timer to prevent drying your jerky too quickly.
Ten trays provide a lot of drying space.
Durable stainless steel construction
cost effective
1 fan, so rotate top trays
More expensive than circle units
5 Trays Jerky Dehydrator Commercial
Number of trays: 5
Material: Food Grade Plastic
Shape: Vertical Rectangle
This 5 pack of dehydrators is worth a try if you love the stackable design. Each tray can hold 1 kg and the digital temperature and time settings make drying easy. The plastic food-grade trays can be cleaned easily with the built-in handle and non slip feet.
Overheating protection
Digital temperature control and timer
cost effective
Vertical heat flow may mean that trays might need to be rotated
There are limited options to purchase additional trays
DEVANTI 6 Trays Food Dehydrator Commercial Fruit Dryer Beef Jerky Maker
Number of trays: 6
Material: Food Grade Plastic
Shape: Rectangle
This horizontal flow dehydrator is made of stainless steel and features a clear view-through door that allows you to see your jerky drying. It is easier to let the heat escape and not have to open the door every time you want. It's very similar in design to the 10 tray plastic dryer, but this unit is smaller. It isn't digitally controlled but it is otherwise a great unit.
See-through door
Smaller compact size
cost effective
non-digital controls
limited tray space
DEVANTI 10 Trays Food Dehydrator Commercial Beef Jerky Maker
Number of trays: 10
Material: Food grade plastic
Shape: Rectangle
You are looking for an affordable way to make jerky? This unit is ideal for beginners who want to make homemade jerky. You can dry a lot of meat with 10 trays. The food-grade plastic trays make cleanup easy. Horizontal airflow allows you to lay your jerky closer together, as the air doesn't need to rise from the bottom like round units.
Ten trays provide a lot of drying space.
plastic easy to clean trays
cost effective
1 fan, so rotate top trays
no timer
non digital display
Excalibur 5 Tray 4548CDB Digital Display Food Dehydrator
This is a great unit!
First, the digital display will give you an accurate temperature reading which is crucial when drying food. The fancy unit comes with a clear door, so you don't have to open it up every time you check.
You get the added benefit of the 2 time/2 temperature control unit. This allows you to set the temperature for a time and then lower it again.
This dehydrator is far more functional and feature-rich than any other on the market. It also looks amazing!
Choosing The Best Jerky Dehydrator: [Buyers Guide, Australia 2022]
You can prepare, serve, and store food in many different ways. Snacks can become boring and can be hard to keep in the refrigerator or store for long periods of time. Many people are always looking for exciting new ways to spice up their diets. You don't have to stick with the same old thing when you can try something different.
A dehydrator can be used to make delicious snacks that you can take with you wherever you go. This is a great way to make snack and meal preparation simple.
For busy people who want to eat healthy and maintain a healthy lifestyle, a quality food dehydrator can be a great choice. These devices are great for prepping school lunches and after-school snacks for busy parents.
You can find the best jerky drying machines on our website. This appliance will allow you to snack on delicious treats quickly, which will save you both time and money.
What can you do with a dehydrator?
People who cook often get frustrated when fresh food goes bad or expires. Sometimes this is unavoidable. These foods can go bad because of the time and effort required to prepare them. There is an easy solution. You can extend the shelf life of your snacks by dehydrating them.
Food dehydrators can be used to save both time and money. This saves you the time and effort of going to the grocery store to buy new items. The nutritional properties of food items are not affected by dehydrating them. This is great news to those who want to eat healthy despite their hectic lives. Even after the food has been dehydrated, all the nutrients and vitamins remain in regular foods.
How Does a Dehydrator Work
A dehydrator works in the same way as an oven or microwave. It uses heat and fans. However, the result is very different than any other kitchen or food preparation tool. The dehydrators remove water from the food items or foods they are placed in. This is done by using a fan that blows hot, humid air on the item for a time.
The food items have been stripped of their water content so they are less susceptible to mold, bacteria and other dangerous developments as food ages. They will last longer in the pantry if they aren't full of water. Because it has lost all of its water, it can retain its vitamins and nutrients.
What are the Key Features in a Jerky Dehydrator?
Each device has many components, but the most important are the fan and dehydrator's capacity. All of these features work together to produce the best dehydrated foods.
It is important to note the food you want to dehydrate most. You can choose to dehydrate fruit, vegetables, meats or other foods. It is important to ensure that the unit you purchase can handle this type of food at the correct temperature settings.
Experts and chefs prefer the back-mounted fan to the bottom or top mounted fans. The back-mounted fan provides more consistent and thorough dehydration. It all depends on what type of food you intend to use with the unit.
A smaller unit is best if you plan to make small meals and snacks at home. You should choose a larger tray area if you cater to large events or need to produce more meals. This will save you time and allow you to focus on one batch at a time.
Making the Best Jerky in a Dehydrator
It can be challenging to get the right temperature for drying because of the variations in each piece of meat. Each piece of meat has its own unique water content and overall composition. It can be difficult to determine when to stop drying the item.
It doesn't take long to learn how to use a food dehydrator, but it will be simple to get the hang of.
Time and Temperature Are Vital
Each device is unique, just as every food item. The same dehydrator that you have used before may not work with the next one.
To ensure the right temperature, make sure you read the instructions.
To make Beef jerky it is advised that a temp of 70 degrees is suitable to make delicious jerky snacks that can be stored in the pantry for a long time.
Consider lowering the temperature if you're concerned about the high temp and extend the period of time the meat spends in the dryer. Use a meat themometer to manually monitor the temperature.
It is best to ensure that the temperature does not exceed 60 Celcius when making beef jerky. This temperature is sufficient to kill bacteria and prevent illness.
For 10 minutes, you can set the temperature at 60 degrees for maximum results. After that time, lower the temp as desired.
A temperature too high can result in jerky that is dry or burnt depending on how thick your slices are.
You can experiment with heat and time until you get the perfect jerky texture.
Where To Use Your Dehydrator
Many first-time users don't consider the temperature in the area where the appliance is being used. It can cause damage to the process of drying the food if the room is too cold, damp, or humid. It can slow down or stop the process altogether. Additionally, it can affect the temperature required to achieve the desired effects on food items.
Your appliance should be kept in a dry area with stable temperatures that don't fluctuate often. This will ensure that you get the best snacks possible at the right consistency.
Be Patient
Like any other cooking process you must have patience to get the right result. This process is easy and much more efficient than other cooking and baking methods, but it does require patience.
The snack can be destroyed if you try to speed up the drying process by turning up the fan or raising the temperature. This is especially true when you use a jerky dryer.
It is vital that meat is not over or under-dehydrated. The appliance must function at the correct temperature for the desired time.
Make The Right Choice and Save Valuable Time
When shopping, it can be easy to fall into the trap of buying the biggest or cheapest appliance. This is not the best way to go. It is better to learn the specific uses of each food dehydrator.
A temperature setting that adjusts to fruits or more watery snacks is not the best choice if you plan on drying beef jerky primarily.
You can choose a high-quality beef jerky dehydrator and you won't have to replace it every few years. This is unlike cheaper models that would need repair or fall apart. This saves you both time and money over the long-term.
Some of the pictures can be viewed here best jerky We have a wide selection of dehydrators available on the web. To find the right one for you, check out the details of each model!